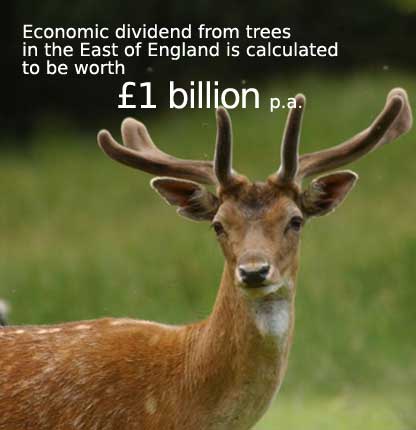 Established to progress the 2003 Woodland Strategy, the Monitoring Action Group (MAG) has overseen this site's makeover. The site is designed as a practical development tool to encourage the inclusion of trees and woodlands in projects wherever trees can add value.
This task involved building on the 2007 strategic review, and conducting the 2010 reappraisal of the value of woodland throughout the East of England.
Theoretical and practical
The website features two key resources to substantiate trees' benefits and illustrate their valuable contributions:
i. An archive of data in the All you need to know section that deals with trees and woodland's theoretical capabilities, along with an overview of their benefits, structured according to their estimated monetary value, plus
ii. A library of case studies showing how different users were able to practically secure tree and woodland benefits.
Presented in a way that members of both the public and professionals can easily access and use it to support any proposed project involving trees or woodland.